Panama: Morphos, metalmarks, mimics and more!
By Peter Hall, scientific and administrative advisor to eButterfly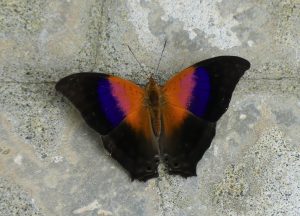 In December 2019, with Covid-19 a rumour coming out of China, I booked a two-week holiday for December 2020 in Panama for my wife and myself. Come that time, with the pandemic raging around the world, the eco-lodge facilities I booked kindly allowed us to postpone our trip for another year. When November 2021 came around and Covid numbers had dropped in Ontario and Panama, I decided to grab a flight to Panama from Toronto late in the month. Turns out we squeezed in a two-week window of opportunity before Omicron started to shut the world down again.
We ended up staying in three very different facilities belonging to the Canopy Family – the Canopy Camp in the Darien jungle to the east, the Canopy Lodge in the cloud forests to the west and the Canopy Tower in the lowland Canal Zone in the centre. Our main targets were the immense diversity of butterflies and birds found in this small country. All the facilities also had expert local guides who knew where to go and how to identify this diversity. By the end of our visit, our butterfly checklist stood at 225 species and bird list at 232. And that's not even to mention the twenty-plus mammal species and countless other smaller life forms.
The Canopy facilities were ready for visitors. The staff was double vaccinated and wore masks. The dining areas were open to the outdoors and at the Camp, we were even in comfortable tents with outdoor bathrooms and showers. Every day we were out and about, enjoying the lush tropical vegetation and warm, humid conditions.
In the Darien, we focused more on birds with a few highlights being a trek into a Harpy Eagle nest with a chick and an Agami Heron stumbled upon in a wetland. However, the Campgrounds had a large number of flowering shrubs and bird feeders scattered around which were magnets for butterflies and hummingbirds. Cattleheart swallowtails of four species battled amongst themselves for access to a verbena shrub and a large number of different metalmark species perched upside down under leaves. The need for local knowledge became self-evident here as the startling amount of mimicry made IDing difficult. Whites mimicked swallowtails, hairstreaks mimicked satyrs, heliconids mimicked each other and metalmarks mimicked just about any other butterfly present. Photos were a must for later identification of species.
Next on the itinerary, the Canopy Lodge was set high up in the cloud forest in the extinct volcano at El Valle de Anton west of Panama City. The stone lodge buildings were set on a hillside with a stream running through the property. Butterflies were our focus here and a local guide was immensely knowledgeable. We quickly IDed three different species of huge blue morphos coming into rotting bananas as bait. Skippers and metalmarks of many different species zipped out from their favourite perches. Some of the brushfoots, such as leafwings, preponas and banners, perched on tree trunks sipping the sap.
Our final destination was the famous Canopy Tower to the north of Panama City in the Canal Zone itself. This disused five-story radar tower was converted into a lodge on a hill and from its open roof, there is a 360-degree view over the rainforest canopy. Famous for its many rare bird sightings, a large number of spectacular butterflies also sun on the leaves and can be viewed with binos or a high-powered zoom camera lens. Five species of swallowtails, including a number of large swordtails, chased each other madly over the canopy while numbers of adelphas, hairstreaks, and large skippers presented continual identification challenges. Two particular highlights were one each of the amazing Regal Hairstreak and Mexican Arcas. A stay at the Tower would not be complete without one or more days hiking the Pipeline Road through lush forest starting right from the canal. Butterfly and bird species not previously seen soon presented themselves. Here, the variety of satyr butterflies in the shady areas along the road was astounding. In one day alone, I photographed and identified 10 species in one small stretch. You had to be careful with IDs because only metres from a Westwood Satyr, a Timid Hairstreak was doing its best to appear like a satyr. Good thing the hairstreak had tails.
Back home, after a difficult tussle with Covid regulations and red tape at airports, the next task was to review the hundreds of photos and pair them with the checklist sightings. After some consultations with various neotropical butterfly websites and knowledgeable experts, it was time to enter them into eButterfly. Turns out that more than a hundred had not been entered into eButterfly before. All of this made me really happy that eButterfly had expanded its range into Central America and the Caribbean.
To see a checklist of all butterfly species sighted, click on this link
Acknowledgements: Thanks to the friendly staff at the Canopy facilities, especially the two guides Igua Jimenez and Tino Sanchez. Thanks also to neotropical butterfly experts Linda Harrison, Bob Yukich and Kim Garwood. For further information on the Canopy Family click on The Canopy Family | Panama Bird Watching, Ecotourism & Nature Tours (canopytower.com).