Glass in Flight Exhibit at the Arizona Sonora Desert Museum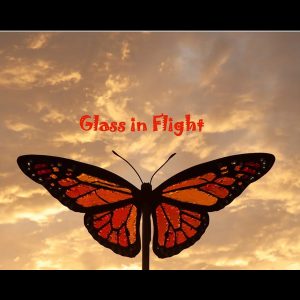 Glass in Flight, the amazing new glass and steel sculpture exhibit of sparkling butterflies, dragonflies, bamboo, bees and beetles by Alex Heveri, has alighted at the Arizona Sonora Desert Museum! This open-air "museum" of living animals is more properly a zoo, natural history museum and botanical garden, but regardless of what you call it, ASDM is the world's best-loved and most famous showcase of everything the Sonoran Desert has to offer, from tarantulas to mountain goats and from javelinas to hawks. The botanical gardens showcase unique Sonoran Desert vegetation.
The Glass in Flight sculptures, which feature 24 giant insects of glittering Dalle de Verre glass hand-set in bright, powder-coated steel frames, are scattered around the grounds like giant, winged jewels. Imagined and built by Tucson artist Alex Heveri, the exhibit enchants, but also calls attention to the decline of insect populations, especially pollinators, worldwide.
Glass in Flight is open now and will run through May 2023. Call the Arizona Sonora Desert Museum at 520-883-1380 or check the website for times and directions. For more information about Glass in Flight, email alexartist@msn.com, To see more about Glass in Flight, go to www.glassinflight.com.
The Arizona-Sonora Desert Museum is located west of Tucson, AZ, at 2021 N. Kinney Road. Open 365 days a year.
Email: alexartist@msn.com or  tez.glassinflight@outlook.com. Text message  520-490-9786
News