eButterfly: A Year in Review and a Look Ahead
As the year comes to a close, we at eButterfly are filled with gratitude for all that we have accomplished together in the past year. From tracking the movements of individual butterflies to compiling data on species distribution and abundance, our community of passionate butterfly enthusiasts has contributed invaluable insights to the world of butterfly research.
One of the highlights of the past year was the inclusion of coop students from the University of Waterloo, who brought fresh perspectives and ideas to the team. This was the second year that we have had coop students working with us, and we are proud to say that we have increased the number of coop students this year. We have also made plans to have even more coop students join us in the coming year. Their contributions have played a key role in the overall maintenance and improvement of the platform. We are grateful for their hard work and dedication to eButterfly. little bit about our team here.
Another major milestone this year was the development of eButterflAI, an innovative image recognition tool that can identify butterfly species from images. This tool, which began development in 2021 and was completed this year, has the potential to revolutionize the way we collect and analyze butterfly data. We are excited to continue refining and improving it in the coming year.
In addition to these achievements, we are also proud to report that we have made significant progress in expanding our taxonomy to be global in scope. This means that we will soon be able to accept observations from anywhere around the world, making eButterfly an even more valuable resource for butterfly enthusiasts and researchers.
Another new addition to eButterfly this year was the creation of our discussion forum, where users can ask questions, share observations, and engage in discussions about all things butterfly-related. We have big plans for this forum in the coming year, including the addition of more moderation tools and the creation of specialized sub-forums for particular topics.
Another important development this year was the addition of a postdoctoral fellow to our team. They have been working closely with us to build species distribution maps using all the data gathered by community scientists on eButterfly. This new addition has brought a wealth of expertise in GIS and data analysis, and has allowed us to take our data visualization and mapping capabilities to the next level. Their work has already yielded important insights into the distribution and movements of various butterfly species, and we are excited to continue working with them in the coming year to further advance our understanding of these fascinating insects.
In this end-of-year report, we will take a look at some of the other highlights of the past year and reflect on the ways in which eButterfly has grown and evolved. We will also look ahead to the future, with exciting plans and initiatives on the horizon.
Without further ado, let's dive into the details of the past year and celebrate all that we have achieved together. Thank you to each and every one of you who has contributed to the success of eButterfly. We are grateful for your passion and dedication to these amazing insects, and we look forward to continuing to work together to advance our understanding of butterflies and the natural world around us.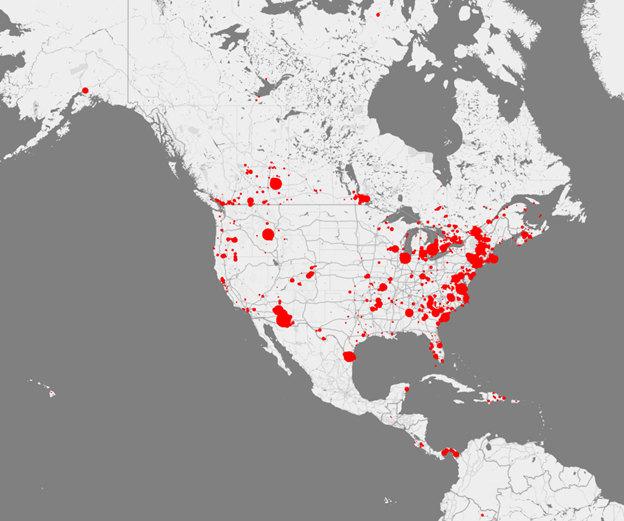 Accomplishments
In 2022, eButterfly experienced an incredible year of growth and success, with butterfly watchers from various locations around the globe contributing to our database. From the tropical regions of Panama to the beautiful islands of Hawaii, and even as far north as Yellowknife in Canada's Northwest Territories, a total of almost 6,000 complete checklists were submitted to eButterfly, documenting an impressive 27,000 observations of a staggering 728 different species. Additionally, our dedicated eButterfly users contributed over 13,000 images representing 694 different species, enabling more thorough observation verification and advancing the scientific understanding of these beautiful creatures. Overall, it was a fantastic year for eButterfly, and we are excited to continue expanding our database and increasing our knowledge of butterflies in the future.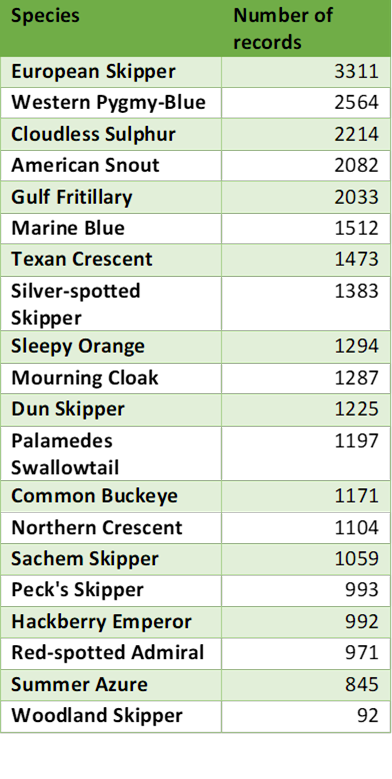 A Salute to the Top Users
Are you curious about how your butterfly watching compares to those of other enthusiasts? Do you want to know which year you had the most diverse list of butterfly sightings? Look no further than the Top 100 tool on eButterfly. With this resource, you can view a ranked list of users based on their all-time butterfly observations or select a specific year to see where you stand in the rankings. In the near future, this tool will also be available to explore by country and state/province. Every observation is valuable and contributes to the overall knowledge and understanding of these beautiful creatures, but some eButterfly users have truly excelled in their butterfly-spotting endeavours. We would like to offer our heartfelt congratulations and gratitude to these power users for their dedication to enjoying butterflies in the field and sharing their sightings with the eButterfly community.
At eButterfly, we rely on our community of dedicated users to help us maintain the accuracy and reliability of our crowd-sourcing identification and verification system. Without your contributions, this system simply would not work. We are grateful for the countless hours that many of you have spent sifting through hundreds, and sometimes even thousands, of images and records in order to independently verify them. Every single identification that you make helps to improve or confirm the overall consensus of the community on the identity of the butterfly that is being observed. Even if you only feel confident in identifying a few species or groups, your input is invaluable in helping us to continually improve our database. We want to extend a heartfelt thank you to all of those who made identifications in 2022. Your efforts are greatly appreciated and have not gone unnoticed.
Do you want to learn more about how to use eButterfly?
Join Rodrigo Solis Sosa, our Human Network and Data Coordinator, as he explains how to use eButterfly in this recorded webinar. To learn even more, check out our Help pages that will quickly get you started on using eButterfly. There's a Quick Start Guide that takes you through each step when entering a butterfly checklist. Learn about our new crowd-sourced data vetting system and our identification tool and how you can quickly get started in helping to verify eButterfly data too. And learn how eButterfly helps you track your life, year, and month lists for countries, states and provinces, and even your favorite locations automatically.
Sharing butterfly images and checklists on social media? Tag us @ebutterfly_org and use #ebutterfly so we are sure not to miss your discoveries! Have a great butterfly year in 2022!