eButterfly 2021 Year in Review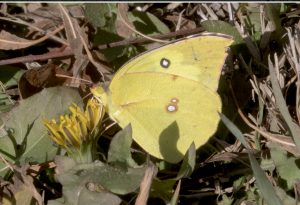 With checklists from the tropics of Panama to the islands of Hawaii and as far north as Yellowknife in the Northwest Territories of Canada, 2021 was an amazing year for eButterfly. Butterfly watchers added over 6,000 complete checklists tallying nearly 30,000 observations of a record breaking 660 species to the ever-growing eButterfly database. eButterfly users uploaded over 13,000 images representing 613 species, allowing for more complete and independent verifications, and even more science.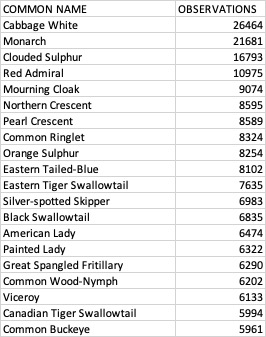 There's no doubt that 2021 was once again a challenging year, leading more people to nature to find comfort, hope, and a sense of connection with others. Thank you for joining us. You make a difference, from inspiring and helping others who come to eButterfly and butterfly watching, to sharing your observations with the the many people who use them for research, conservation, and education.
A Salute to the Top Users
Have you ever wondered how many butterflies you are finding compared to others? Maybe you'd like to know which year you had your best list? Check out the Top 100 tool. Right now you can see a ranked list of users all-time or each year you select and see where you rank. Soon, we'll have this tool available to explore for every country and state/province too! Every observation counts, but some eButterfly users are exceptionally prolific. Congratulations and thanks to all these power users that are enjoying butterflies in the field and sharing them with everyone at eButterfly!
And our crowd-sourcing identification and verification system doesn't work unless users are adding identifications to other's observations. Thankfully, many of you are willing to swipe through hundreds, sometimes thousands, of images and records to help independently verify them. Each identification helps improve or confirm the community's opinion on the identity of the butterfly that the observation represents. Even if you only know a few species or groups well, your identifications help the eButterfly database improve. Thank you to all of you that made identifications in 2021!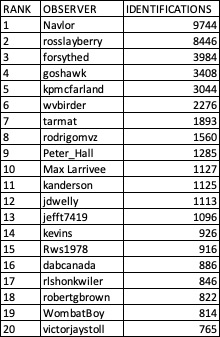 Big Data for Science and Conservation
Every time butterfly watchers raise binoculars and cameras to record a butterfly sighting, they collect important data. Recording the number, date, and location of each and every butterfly, no matter how common or rare, may seem trivial, even repetitive— but this detailed information can be invaluable to science and conservation. Butterflies act as early warning signals for habitat degradation, climate change, and other ecological forces. Community science programs like eButterfly allow volunteers to submit checklists from anywhere, and can quickly amass large volumes of both historic and current observations.
Thousands of butterfly watchers and scientists that have shared their checklists with eButterfly have amassed more than 460,000 observations and over 100,000 checklists in North America alone. These data are now shared with the Global Biodiversity Information Infrastructure (GBIF) where scientists and conservation biologists can use them. In just the last month, eButterfly data was downloaded by scientists over 400 times! As the community adds new checklists and helps to verify records, the data at GBIF is regularly updated.
From climate change effects to COVID-19 impacts, dozens of scientific publications have already used eButterfly data. It has been cited in over 200 publications! Each one started with the first shared observation. For example, in 2010 when the largest butterfly in North America fluttered among an observer's flowers, they knew it was something neat. It was the first record of an Eastern Giant Swallowtail in Vermont. Thousands of shared observations later, the data gave our scientists the ingredients to understand how the changing climate enabled this northward expansion.
New Features and Tools
Here's a few of our favorite new tools and improvements we implemented in 2021:
New Tool for Creating Your Own Project sites- this allows you to easily and quickly create a hub for your event, club, class, or organization. An eButterfly Project creates a space for you that pools observations of eButterfly users together. You can automatically include all of the checklists and observations that fit the places, taxa, users, or dates that you specify. Whether you're starting a community science effort, creating a home for your user group, or running a butterfly bioblitz, eButterfly Projects is the new tool for you. Learn how to set up your project on our Blog with tutorials and a screencast!
Create Your User Profile- Have you ever wondered who is helping to identify and verify your butterfly observations? Or maybe you wanted to learn more about someone that sees a lot of butterflies in your area? Now you can! We just released the first version of eButterfly user profiles. The profile page has a small image, the user level, stats, and their most recent photos. We'll be adding more features in the future too. Click on any user name in eButterfly and view their profile.
Taxonomy System Updated- We made substantial improvements and corrections to the taxonomic backbone for eButterfly. This drastically improves the user experience when entering checklists and exploring data. The eButterfly taxonomy is a hierarchical approach to creating a butterfly list for checklist data entry and identifications. Users can now select a taxon from any level that best represents their identification for the observation: superfamily Papilionoidea (butterflies), family, subfamily, genus, species, or subspecies (coming soon!). Learn more about these updates on our Blog.
Each week the eButterfly development and operations team meets to discuss our progress. The butterfly watchers on the team can often be heard saying—"that should be easy to code, it's just a few if-then statements." It has become a running joke and always elicits eye rolls from the programmers. Well, needless to say, it isn't as easy as an if-then statement. Thankfully, our lead programmer Xinbao Zhang (who single-handedly coded eButterfly), now has a small team working with him and they have done an amazing job  making eButterfly shine in 2021.
Michael Bunsen joined Xinbao as a developer and has helped with everything from squashing bugs (the computer kind!) to updating the taxonomic system and delivering data to GBIF. Now he is working on implementing our new computer image recognition and upgrading our server structure. We have also had three undergraduate student programmers as part of a co-op program with the University of Waterloo. Kun Zhu worked with us as a web developer and Vivek Alamuri was a student web developer in 2021. And our first co-op student, Shivangi Garg joined eButterfly part-time as a mobile app developer.
Thank you to the entire team for putting up with us butterfly watchers and making our wishes come true. And there is more to come! Currently they are migrating backend operations to faster platforms, introducing stronger mapping systems, smoothing out long-standing system kinks, and creating a mobile app! They will reveal some amazing work once again in 2022 as eButterfly gets bigger and better for all of us.
Do you want to learn more about how to use eButterfly?
Join Rodrigo Solis Sosa, our Human Network and Data Coordinator, as he explains how to use eButterfly in this recorded webinar. To learn even more, check out our Help pages that will quickly get you started on using eButterfly. There's a Quick Start Guide that takes you through each step when entering a butterfly checklist. Learn about our new crowd-sourced data vetting system and our identification tool and how you can quickly get started in helping to verify eButterfly data too. And learn how eButterfly helps you track your life, year, and month lists for countries, states and provinces, and even your favorite locations automatically.
Sharing butterfly images and checklists on social media? Tag us @ebutterfly_org and use #ebutterfly so we are sure not to miss your discoveries! Have a great butterfly year in 2022!